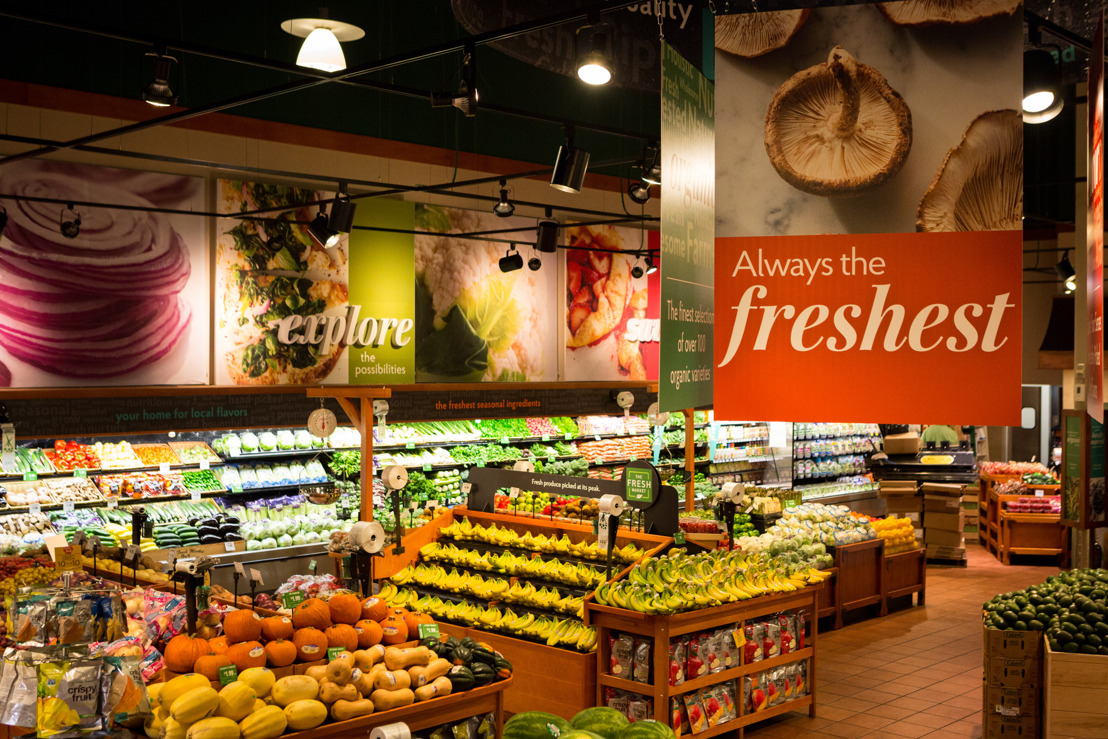 The Fresh Market to celebrate grand opening of new location at CityPlace Doral on May 24
Specialty grocer to open fourth Miami-area location with grand opening festivities including sampling, giveaways and live entertainment
Wednesday, May 3, 2017 — Foodies can anticipate more flavor this spring as The Fresh Market celebrates the grand opening of its new location at CityPlace Doral on Wednesday, May 24. Located at 3580 NW 83rd Ave., the new 26,000 square-foot store will be the specialty grocer's 46th store in the state of Florida and 175th store nationwide. The opening of the first Doral location will further strengthen The Fresh Market's roots in the Miami community, while bringing approximately 80 new jobs to the market.
Guests will be greeted by inviting aromas from the bakery; a full service meat counter with the finest cuts of beef ground daily; premium seafood arriving fresh several times a week; and an impressive selection of farm-fresh produce. Foodies will discover a curated shopping experience offering the best of its kind in each aisle. Signage throughout the store designates departments and guides those shopping with dietary restrictions or food allergies; highlighting organic products; and inspiring guests to explore new tastes.  
The new location at CityPlace Doral complements the vibrant mixed-use development, featuring luxury living and more than 40 dining, shopping and entertainment destinations for all palettes and walks of life.  Inspired by the local community, the store will incorporate mid-century modern décor with features including bilingual signage in English and Spanish, natural light, interior copper finishes and a mezzanine floor that overlooks the entire store.
Beginning May 24, the Doral community is invited to shop fresh, eat fresh and explore the hallmarks of The Fresh Market:
Delicious, Fresh Food – Fresh has always remained top priority at The Fresh Market, with a bountiful selection of crisp, seasonal produce, and exceptional quality meat and seafood selectively sourced from the best providers across the globe. The new Doral location will provide an abundance of fresh produce items, hand-picked at their peak from local Florida farms such as Wish Farms and Pero Family Farms.
Meal Solutions – A dedicated, interactive sampling station will offer guests the chance to taste flavors from across the store, including the weekly dish from The Fresh Market's signature Little Big Meal program and flavorful Meals in Minutes. On-the-go shoppers can also conveniently pick up satisfying salads and ready-to-eat Bistro Comfort Bowls available in the deli. Whether shopping for a pre-prepped weekday dinner or a made-from-scratch feast, The Fresh Market inspires its guests to explore new tastes.
Grocery Essentials – Guests will find over 1,000 everyday grocery essentials including baby and pet products to supplement The Fresh Market's premium, gourmet and specialty items.
Health & Wellness –The Fresh Market features a Mind & Body department to support a healthy lifestyle – featuring over 2,000 vitamins, minerals and supplements, as well as an in-store specialist to answer questions and offer recommendations. Aisles will be specially labeled to guide those shopping with dietary restrictions or food allergies to a robust selection of health-conscious products across the store including thousands of organic items, certified gluten-free items and certified non-GMO items.
Partnering with local farmers, vendors and culinary entrepreneurs is a focus for The Fresh Market's Miami stores.  The Doral store supports a number of local companies, including Gelato Petrini, Verdurabrand, Tom's Gourmet Sauce and Skinny Latina Million Dollar Marinade.  "I'm so excited that The Fresh Market is finally coming to Doral! I appreciate the support the company offers the local food community," said Ana Quincoces, founder and creator of Skinny Latina Million Dollar Marinade. "The Fresh Market was the first store to take a chance on Skinny Latina, and as a result Skinny Latina continues to grow."
"We are excited to welcome The Fresh Market to our collection of amazing tenants now open at CityPlace Doral," said Bill Shewalter, senior vice president of development at The Related Group. "The Fresh Market has been a highly anticipated opening among residents and our community, so we are thrilled to be a part of its entry and future success in Doral."
The Fresh Market's grand opening activities will kick-off Wednesday, May 24 at 7:30 a.m. with a ribbon cutting ceremony featuring Doral Mayor Juan Carlos Bermudez. Doors will open at 8 a.m. and festivities will run through Sunday, May 28. Throughout the week, the Doral community is invited to enjoy not-to-miss chef demonstrations, in-store sampling, live entertainment, special deals and giveaways.
Ribbon cutting with Doral Mayor Juan Carlos Bermudez
Breakfast sampling featuring The Fresh Market's signature nut breads
FREE meal for four from The Fresh Market's signature Little Big Meal program for the first 50 guests in line
FREE reusable shopping bags for the first 1,000 guests
Live entertainment featuring RythmTrail Steel Drum Band
Chef demonstrations featuring crab cakes and Thai Coconut Curry Chicken
Grilling demonstrations featuring The Fresh Market's gourmet beef burgers and a variety of Italian sausages
Food sampling throughout the store, including favorites from Stonewall Kitchen, Tessemae's Dressings and Republic of Tea
"Cracking of the Parmesan" and tasting, featuring a 75 pound wheel of Parmigiano Reggiano, which is known worldwide as the "King of Italian Cheeses"
"The Fresh Market is a place where our guests can truly savor their grocery shopping trip. Every item in our store has been hand-picked and reflects the heart of our commitment to great tasting food.  We are proud to stock our shelves with a combination of produce from local farmers, specialty items found from around the world and everyday grocery essentials," said Rey Contreras, store manager.  "We know from our existing presence in the Miami area that this community has always offered a warm welcome to The Fresh Market, and we look forward to delivering extraordinary eating experiences to the Doral neighborhood."
The Fresh Market is also committed to enriching the lives of people within the communities it serves by engaging its neighbors to help relive hunger insecurity. The new store will proudly partner with Feeding South Florida by providing regular food donations. In addition, The Fresh Market is a proud partner of No Kid Hungry®. Together, they are dedicated to ending childhood hunger in America by surrounding children with healthy food where they live, learn and play.