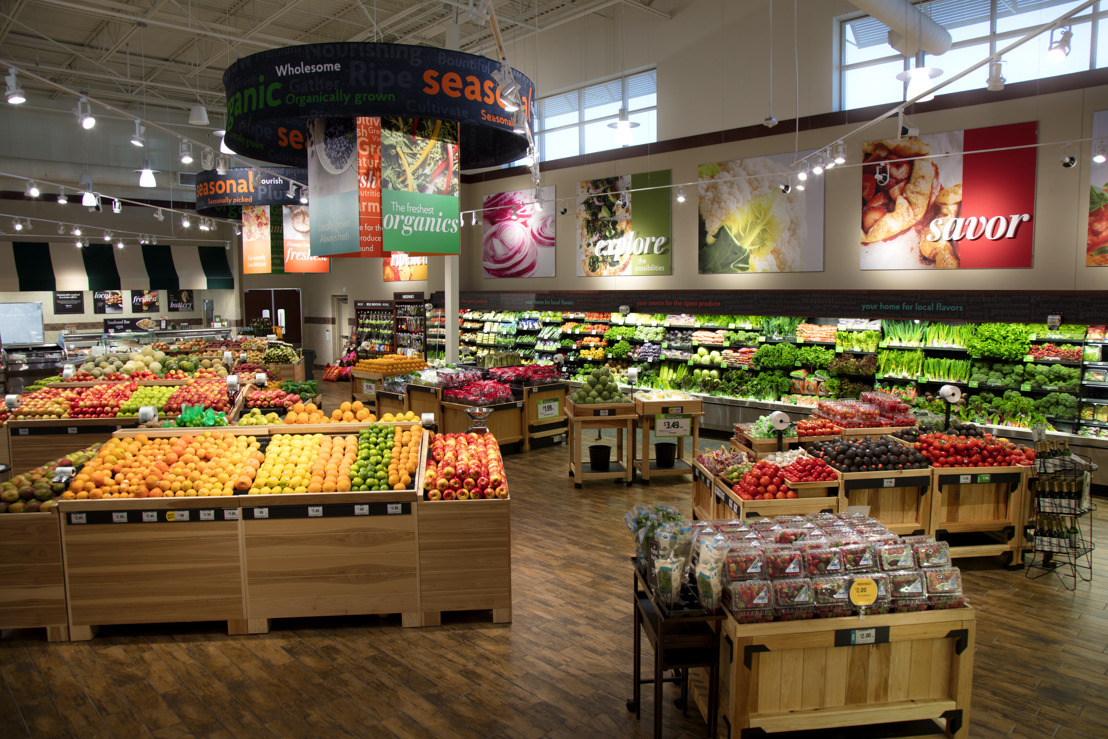 The Fresh Market to celebrate grand opening of new Fleming Island location at Island Walk North on June 14
Specialty grocer to open fifth Jacksonville-area location with grand opening festivities including sampling, giveaways and live entertainment
Monday, June 5, 2017 — Foodies can anticipate more flavor this summer as The Fresh Market celebrates the grand opening of its new location at Island Walk North on Wednesday, June 14. Located at 1960 East West Parkway, the new 25,000 square-foot store will be the specialty grocer's 47th store in the state of Florida and 176th store nationwide. The opening of the first Fleming Island location will further strengthen The Fresh Market's roots in the Jacksonville community, while bringing approximately 80 new jobs to the market.
Guests will be greeted by inviting aromas from the bakery; a full service meat counter with the finest cuts of Premium Choice beef, as well as beef ground daily; premium seafood arriving fresh several times each week; and an impressive selection of farm-fresh produce. Every aisle invites discovery into the specialty grocer's curated, unique flavors and tastes from local neighbors and from around the world. Signage throughout the store will designate departments and guide those shopping with dietary restrictions or food allergies; highlight organic products; and inspire guests to explore new tastes.
The new location at Island Walk North complements the relaxed neighborhood bordering the St. Johns River. Inspired by the local community, the store will incorporate a coastal décor theme with features such as rustic wood floors, a causal khaki color scheme, natural light and stainless steel finishes. The Fresh Market's iconic green-and white-striped awnings will visually denote areas where guests will find the freshest ingredients and friendliest service, while rustic orchard bins placed around the store will offer an atmosphere reminiscent of a local farmers market.
Beginning June 14, the Fleming Island community is invited to shop fresh, eat fresh and explore the hallmarks of The Fresh Market:
Commitment to Fresh Food – Providing the freshest and most delicious food has been The Fresh Market's promise to its guests for more than 35 years. The new Fleming Island location will provide an abundance of premium produce, hand-picked at its peak from farmers far and wide, as well as from those close to home including Wish Farms and Pero Family Farms. In addition, guests will discover exceptional quality meat and seafood selectively sourced from the best providers across the globe; signature baked goods made in-store with only the finest ingredients; and a cheese selection that will delight all taste buds.
Delicious Meal Solutions –The Fresh Market's signature Little Big Meal program delivers delicious and affordable meals for busy families each week to make everyday eating extraordinary. A dedicated, interactive sampling station will offer guests the opportunity to taste the weekly dish. On-the-go shoppers can enjoy flavorful Meals in Minutes featuring prepackaged fresh ingredients from the seafood and produce departments, ready to bake or microwave and serve. Guests will also find satisfying salads and ready-to-eat Bistro Comfort Bowls available in the deli department. The Fresh Market's meal solutions deliver a thoughtful and innovative range of options for any dining occasion or cooking ability, while helping its guests discover new flavors.
Curated Specialty Items – Because The Fresh Market partners with local farmers, vendors and culinary entrepreneurs, guests will find inspiration from a wide assortment of specialty products. The Fleming Island store supports a number of local companies including Skinny Latina, Tom's Gourmet Sauces, Verdurabrand and Gelato Petrini. "The Fresh Market's commitment to quality, artisan and local food perfectly echoes our core mission. Their devotion to being a friendly local market makes them a convenient and integral part of our customers' shopping experience," said Jim Cohen, co-founder and president of Gelato Petrini.
Health & Wellness –The Fresh Market will feature a Mind & Body department to support a healthy lifestyle – featuring 1,800 vitamins, minerals and supplements, as well as an in-store specialist to answer questions and offer recommendations. Aisles will be specially labeled to guide those shopping with dietary restrictions or food allergies to a robust selection of health-conscious products across the store including over 1,100 organic items, 1,500 certified gluten-free items and 1,200 certified non-GMO items.
The Fresh Market's grand opening activities will kick-off Wednesday, June 14 at 7:30 a.m. with a ribbon cutting ceremony featuring the Clay County Chamber of Commerce. Doors will open at 8 a.m. and festivities will run through Sunday, June 18. Throughout the week, the Fleming Island community is invited to enjoy not-to-miss chef demonstrations, in-store sampling, live entertainment, special deals and giveaways.
Breakfast sampling featuring The Fresh Market's signature nut breads
FREE meal for four from The Fresh Market's signature Little Big Meal program for the first 50 guests in line
FREE reusable shopping bags for the first 1,000 guests
Live entertainment featuring RythmTrail Steel Drum Band
Chef demonstrations featuring crab cakes and Thai coconut curry chicken
Grilling demonstrations from 1 p.m. to 5 p.m. featuring The Fresh Market's gourmet beef burgers and a variety of Italian sausages
Food sampling throughout the store, including favorites from Stonewall Kitchen, Tessemae's Dressings and Republic of Tea
"Cracking of the Parmesan" and tasting, featuring a 75 pound wheel of Parmigiano Reggiano, which is known worldwide as the "King of Italian Cheeses"
"The Fresh Market is a place where our guests can truly savor their grocery shopping trip. Every item in our store has been hand-picked and reflects the heart of our commitment to great tasting food. We are proud to stock our shelves with a combination of produce from local farmers, specialty items found from around the world and everyday grocery essentials," said Charles Creech, store manager. "We know from our existing presence in the Jacksonville area that this community has always offered a warm welcome to The Fresh Market, and we look forward to delivering extraordinary eating experiences to the Fleming Island neighborhood."
The Fresh Market is also committed to enriching the lives of people within the communities it serves by engaging its neighbors to help relieve hunger insecurity. The new store will proudly partner with Waste Not, Want Not food pantry by providing regular food donations. In addition, The Fresh Market is a proud partner of No Kid Hungry®. Together, they are dedicated to ending childhood hunger in America by surrounding children with healthy food where they live, learn and play.