The Fresh Market springs into March with delectable Easter and "Little Big Meal" offerings
Specialty grocer makes dining at home delicious and affordable with inspiring meal solutions each week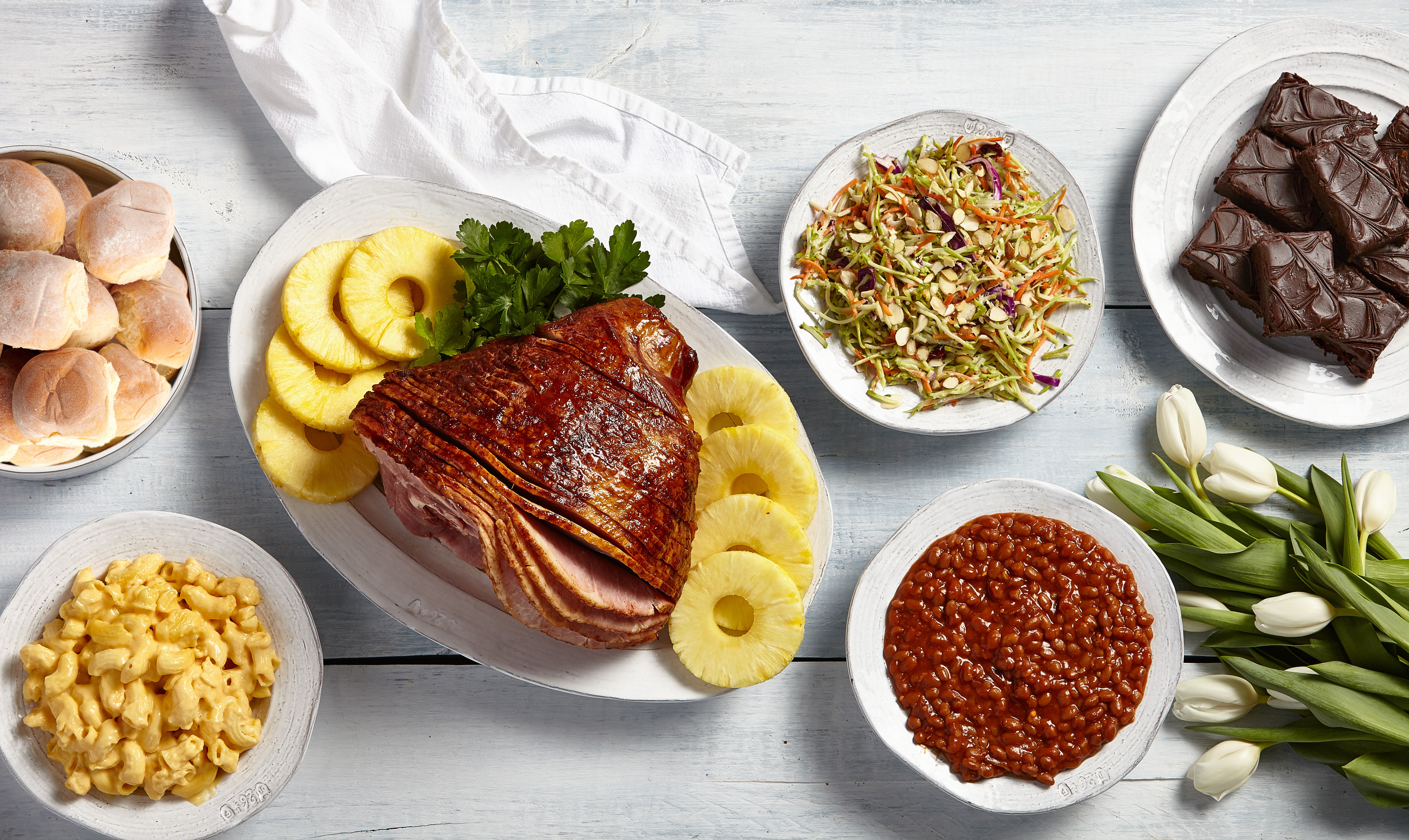 The Fresh Market is a specialty grocer focused on providing fresh, delicious food with friendly service in a warm and inviting atmosphere. From seasonally fresh produce to exceptional meat and seafood, signature baked goods and thousands of organic options, The Fresh Market is dedicated to offering guests the most delicious ingredients and inspiring meal solutions.
WHAT/WHEN:
This Easter, The Fresh Market is making it easy to fill the basket and celebrate the season! For only $59.99, the Easter meal feeds eight to ten people and is ready to heat, serve and enjoy. The festive fare starts with a seven-to nine-pound spiral sliced honey ham, double glazed with honey and brown sugar and smoked over hickory hardwood for a perfect flavor. The gluten-free entrée is served alongside two pounds of smokehouse barbecue beans; creamy macaroni and cheese; broccoli cranberry slaw with almonds; juicy and sweet sliced fresh pineapple; and 12 traditional dinner rolls. Finish off the meal on a sweet note with a tray of fudge brownies covered in a decadent, fudgy icing! Order in store or online at thefreshmarket.com/products/easter-meal from February 28 to March 27 at 2 p.m., and pick up the meals in store on March 30, 31 or April 1 before 5 p.m. The Fresh Market will be closing at 5 p.m. on Easter Sunday, April 1.
The Fresh Market's signature "Little Big Meal" program has been taking the guesswork out of preparing a deliciously different dinner at an affordable price for busy families each week since 2014. Available at all of the grocer's 176 stores nationwide, grab-and-go meals offer satisfying solutions to the perennial "What's for dinner?" question. Guests may simply stop by the "Little Big Meal" display any day of the week to choose from a variety of fresh ingredient options to help make every day eating nothing short of extraordinary.
Each "Little Big Meal" recipe is tastefully curated with the season's finest quality, hand-picked ingredients and offers a quick and easy wholesome meal for four – available throughout the month for $25 or less!
February 28 – March 6 – Chicken Roll-Ups ($20)

Kick off this favorite "Little Big Meal" with four chicken roll-ups, served alongside a roasting kit of broccoli, red potatoes, cauliflower, zucchini and thyme, choice between bowtie pesto salad or honey lemon bowtie salad and six sourdough rolls. Finish off the meal with a selection of Graeters ice cream, with flavors including black raspberry chocolate chip, mint chocolate chip, salted caramel chip, butter pecan, original salted caramel, coconut chocolate chip and buckeye blitz chocolate chip.

March 7-13 – Slow Cooker Barbecue ($20)

There's nothing quite as comforting as delicious barbecue in the slow cooker, made easy thanks to this "Little Big Meal." Choose between boneless Boston butt and antibiotic-free boneless chicken thighs and simmer with Lillie's Q barbecue sauce in a variety of flavor options, including Carolina, smoky Memphis style, eastern North Carolina style, hot smoky or gold with a mustard base. Fold the delicious meat inside a four count of gourmet brioche hamburger buns and serve alongside coleslaw, baked potato salad, sour cream and cheddar macaroni or barbecue beans. Freshen up the palette with a tropical fruit tub that includes honeydew, cantaloupe, pineapple, strawberries, blueberries, red grapes and kiwi – the perfect introduction to spring!

March 14-20 – Chicken Parmesan ($20)

This classic dish starts off with a four-count chicken parmesan, paired with Boves pasta sauce in basil, marinara or roasted garlic and topped with a sprinkling of The Fresh Market's own Italian or mozzarella cheese shreds. Serve all of it atop choice of Garofalo pasta, including spaghetti, bucatini, fusilli, penne and more. Keep it fresh with a side salad, with options that include chopped poppyseed, sesame Asian, sunflower crunch kit, endless summer kit and Caesar.

March 21-27 – Fajitas ($20)

Fire up the sizzle with fajitas for four! Select between sirloin steak strips, chicken breast strips or peeled and deveined shrimp, and mix with a Southwest kit of onions and red, yellow and green peppers. Sauce it up with Simply Organic simmer sauce in classic fajita, mild taco or Southwest taco and serve alongside La Tortilla green chili, white or yellow corn or handmade style flour tortillas and top with a dollop of Daisy brand sour cream. Finish off this tasty meal with a side of sunset salsa in black bean, bruschetta, hot, mango, medium or mild!

March 28-April 3 – Lasagna ($25)

Who doesn't love good lasagna? This "Little Big Meal" is full of flavor and will have the whole family scrambling for more. Choose between meat or veggie lasagna and a salad in Asian sesame, berry harvest, fresh harvest, garden medley, hearty greens, Southwest, sunflower kale or sweet kale. Serve alongside six take-and-bake garlic knots and enjoy a cool finish with Talenti gelato in a selection of flavors, including fudge brownie, raspberry and cream, sea salt caramel, Mediterranean mint, coffee chocolate chip, Southern butter pecan, Sicilian pistachio and salted peanut caramel. It's a feast fit for spring!
WHERE:
The Fresh Market's 176 store locations nationwide
For local store information, please visit www.thefreshmarket.com/locatemystore.
MORE INFO:
For more information on the "Little Big Meals" program, ingredients and recipe ideas, please visit www.thefreshmarket.com/littlebigmeal and follow along on Facebook, Twitter, Instagram and Pinterest.
*Editor's note: when referring to the specialty grocer, please use "The Fresh Market" not "Fresh Market."