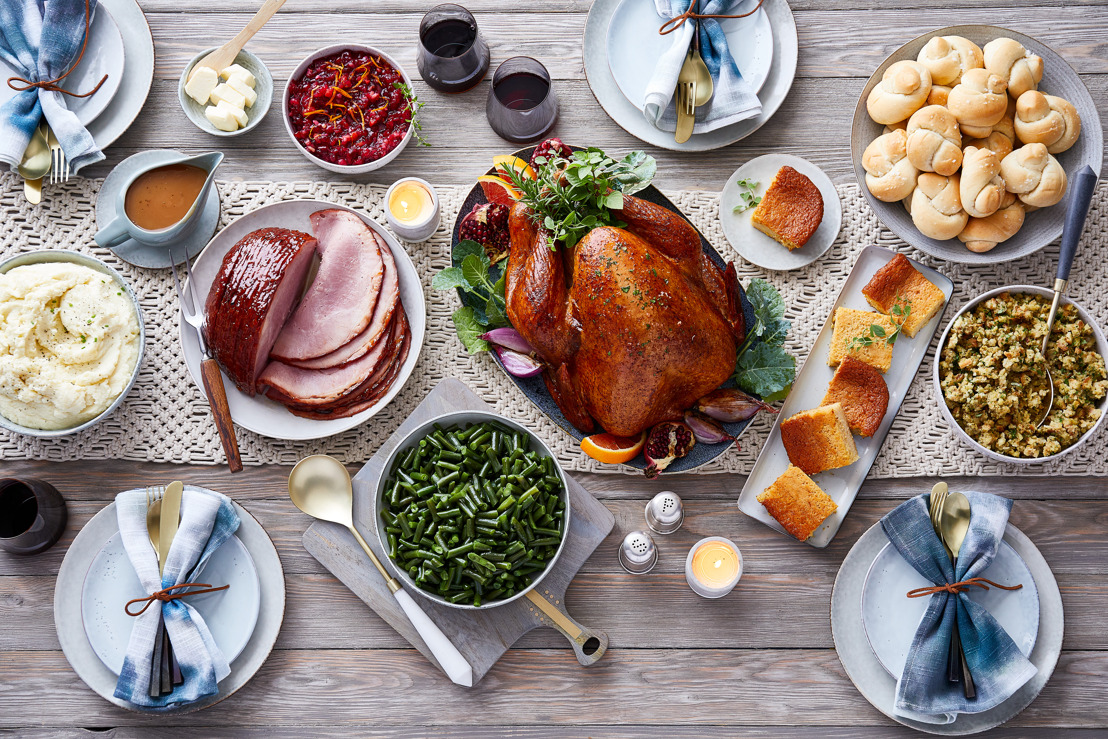 The Fresh Market offers tastes, treats and inspiration during "Taste of the Holidays" November 11-12
Specialty grocer invites neighbors to sample traditional favorites and discover new dishes for the holidays
Wednesday, November 1, 2017 — The most delicious time of the year is here! For those looking to celebrate the sweet and savory flavors of the season, The Fresh Market is the destination for fresh and delicious holiday fare! Guests can prep their palettes at the "Taste of the Holidays" Sampling Event on Saturday, November 11 and Sunday, November 12 from noon to 4 p.m. at all 176 store locations.
The specialty grocer has selected holiday menu items available for sampling to spark meal ideas in advance of the Thanksgiving feast. Guests are invited to enjoy tastes of The Fresh Market's mouthwatering, vegetarian-fed, 100 percent antibiotic-free turkey – never frozen and unmatched in taste and tenderness. Also featured at the event will be The Fresh Market's spiral-sliced honey ham, double-glazed with honey and brown sugar and smoked over hickory hardwood – prepared to conveniently heat and serve at home. Guests will be able to savor sides during Taste of the Holidays, including The Fresh Market's signature cranberry relish with just the right balance of sweet and tart. Perfectly spiced pumpkin pie, baked fresh in-store, will end the event on a sweet note – along with other traditional seasonal favorites made simple for the busy holiday season.
Now through Monday, November 20, The Fresh Market is offering holiday meal ordering for a simplified, foolproof Thanksgiving feast. The Fresh Market's holiday meal ordering program is specially designed for guests who crave delicious, gourmet dishes prepared to perfection, as well as the comfort and convenience of a personalized order ready, reserved and waiting. For those who savor the experience of cooking their Thanksgiving meal from scratch, The Fresh Market offers choices such as fresh turkey, beef tenderloin and lamb that can be purchased and prepared at home according to favorite family recipes. From a deluxe holiday dinner that serves 12-14 to a selection of à la carte items, the 2017 holiday meal ordering program delivers maximum flavor and minimum fuss to satisfy everyone at the Thanksgiving table.
After placing an order online or in-store, guests may pick up a holiday spread at their neighborhood store by 10 p.m. on Tuesday, November 21 and Wednesday, November 22 and, in all store locations outside of Hingham, MA, by 3 p.m. on Thursday, November 23. Orders can be placed at thefreshmarket.com/holiday-meals.
About The Fresh Market, Inc.
Founded in 1982, The Fresh Market, Inc. is a specialty grocery retailer focused on providing fresh, delicious food with friendly service in a warm and inviting atmosphere. From seasonally fresh produce to exceptional quality meat and seafood, signature baked goods and thousands of organic options, The Fresh Market is dedicated to offering its guests the most delicious and inspiring foods available. As a destination for weekly shopping and special occasions, The Fresh Market provides a thoughtful product assortment curated for all tastes and culinary preferences. The company operates 176 stores in 24 states across the U.S. For more information, please visit www.thefreshmarket.com or follow the company on Facebook, Twitter, Instagram and Pinterest.