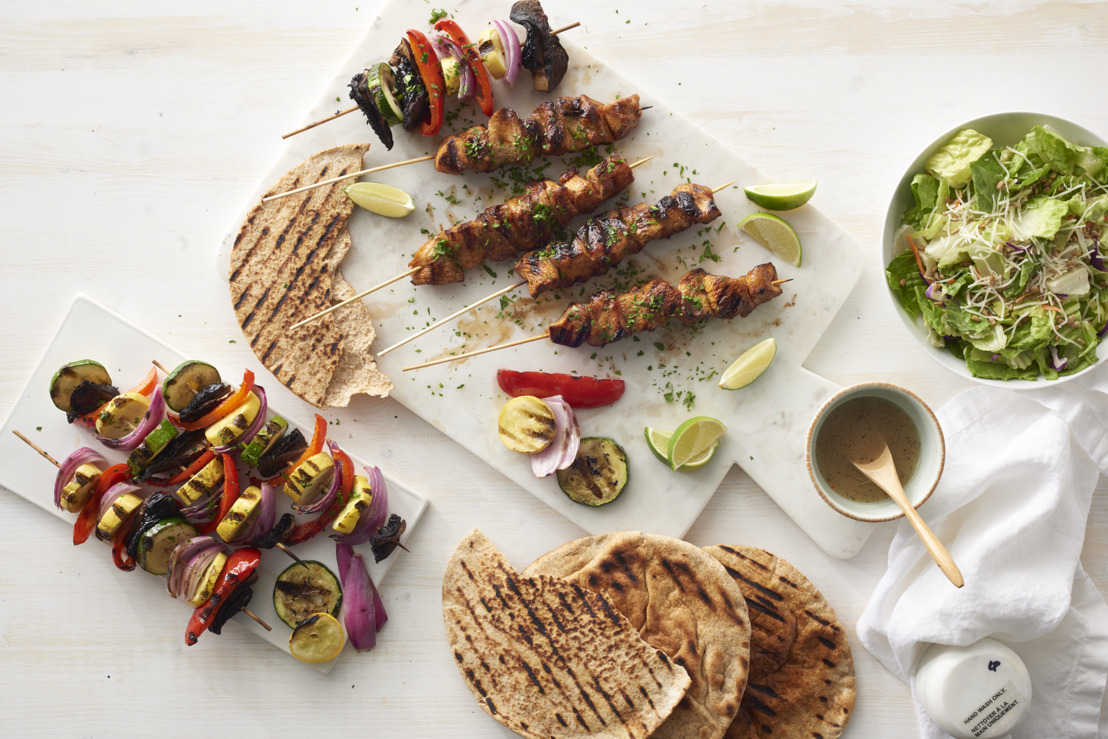 Savor summer flavor with The Fresh Market's August grab-and-go "Little Big Meal" offerings
Specialty grocer makes dining at home delicious and affordable with inspiring meal solutions each week
Tuesday, July 25, 2017 — The Fresh Market is a specialty grocer focused on providing fresh, delicious food with friendly service in a warm and inviting atmosphere. From seasonally fresh produce to exceptional quality meat and seafood, signature baked goods and thousands of organic options; The Fresh Market is dedicated to offering guests the most delicious ingredients and inspiring meal solutions.
WHAT/ WHEN:                  
The Fresh Market's signature "Little Big Meal" program has been taking the guesswork out of preparing a deliciously different dinner at an affordable price for busy families each week since 2014. Available at all of the grocer's 176 stores nationwide, grab-and-go meals offer satisfying solutions to the perennial "What's for dinner?" question. Guests may simply stop by the "Little Big Meal" display any day of the week to choose from a variety of fresh ingredient options to help make every day eating nothing short of extraordinary.
Each "Little Big Meal" recipe is tastefully curated with the season's finest quality, hand-picked ingredients and offers a quick and easy wholesome meal for four – available throughout the month for $25 or less!
August 2-8 – Kabobs ($25)

Nothing says "summer" more than juicy kabobs cooked over the coals! Guests may select between teriyaki chicken, BBQ pork tenderloin or mango chipotle pork tenderloin skewers – all ideal for long summer nights on the patio. Also included are a four-count of veggie or tropical skewers, white or wheat pita pocket bread and Mediterranean pasta salad. Talenti gelato - available in over 15 flavors including Caribbean coconut, Mediterranean mint, Tahitian vanilla bean and Roman raspberry sorbetto - completes the meal with a cooling palate cleanser.

August 9-15 – Chicken Parmesan ($25)

Viva Italia! The Fresh Market's Chicken Parmesan Little Big Meal will transport guests straight to Italy with breaded chicken cutlets, mozzarella cheese shreds, Cucina Antica tomato sauce and fresh green salad. Options of Italian or reduced-fat mozzarella cheese shreds and tomato basil, garlic marinara, spinach or vodka pasta sauce are available for the main course. Salad selections of Asian sesame, southwest, sunflower and sweet kale or strawberry harvest keep things fresh on the side. Add fan favorite flavor with a yummy take-and-bake garlic knot!

August 16-22 – Fajitas ($25)

Dinner parties are sure to sizzle with The Fresh Market's Fajita Little Big Meal, featuring a choice of sirloin steak strips, chicken breast strips or shrimp. The main course pairs with a southwest kit of hand-picked produce, including white onions and red, yellow and green bell peppers. A dash of Frontera classic fajita skillet sauce tops a choice of corn or flour tortillas and cheese shreds in cheddar, Mexican mix or Colby jack. Refried black and red beans, Cuban black beans and chipotle red beans add spice and substance for meat and veggie lovers alike.

August 23-29 – Roasted Chicken Roll Ups ($20)

Guests can "roll up" into September with the final Little Big Meal offering –The Fresh Market's Roasted Chicken Roll Ups. A choice of chicken parmesan, portabella, Venezia or Cordon Bleu roll ups are perfectly paired with a broccoli, red potatoes, cauliflower, zucchini and thyme roasting kit. Savory sides include a choice between bowtie pesto pasta salad and honey lemon bowtie salad. The meal is complete with sweet tooth satisfaction: cookie options include chocolate chunk, honey oatmeal raisin, white chocolate macadamia, chocolate chunk toffee, the kitchen sink cookie or peanut butter chocolate chip.
WHERE:                 
The Fresh Market's 176 store locations nationwide
For local store information, please visit thefreshmarket.com/your-market/store-locator.
MORE INFO:        
For more information on the "Little Big Meals" program, ingredients and recipe ideas, please visit thefreshmarket.com/specials/little-big-meal and follow along on Facebook, Twitter, Instagram and Pinterest.