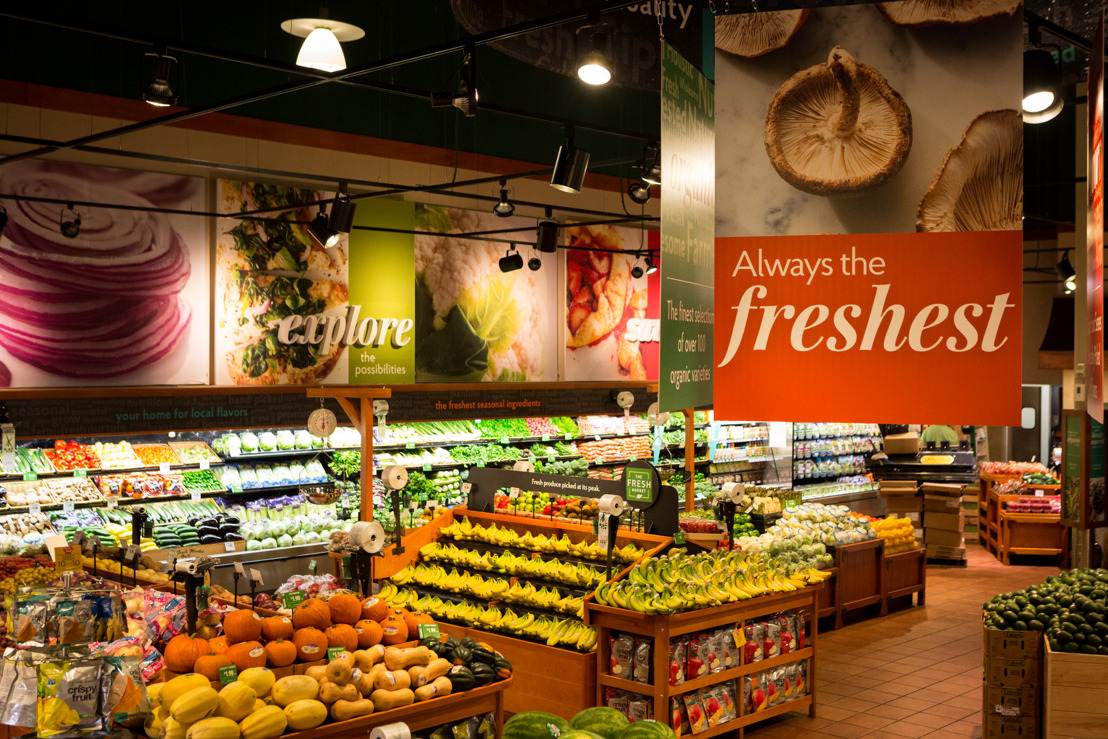 Food and flavor abound at The Fresh Market's Boca Raton grand opening on January 11
Specialty grocer reveals brand refresh; opens third Boca Raton location with an enhanced shopping experience and increased product offering
Thursday, December 22, 2016 — The Fresh Market invites the community to celebrate the grand opening of the specialty grocer's third Boca Raton location on Wednesday, January 11. The new 24,000 square-foot store will be located at 5540 North Military Trail and will be the grocer's 43rd store in the state of Florida and 178th store nationwide. The Fresh Market is pleased to bring approximately 80 new jobs to the Boca Raton area.
The Fresh Market's grand opening activities will begin Wednesday, January 11 at 7:30 a.m. and run through Sunday, January 22 with chef demonstrations, in-store sampling, live entertainment, special deals and giveaways.
Starting at 7:30 a.m. on Wednesday, January 11, guests can enjoy:
Ribbon cutting with the Boca Raton Chamber of Commerce
FREE meal for four from The Fresh Market's signature Little Big Meal program for the first 50 shoppers
FREE reusable shopping bags and sample size coffee for the first 1,000 guests
Chef demonstrations featuring crab cakes and Mama Mancini's meatballs
Grilling demonstrations featuring The Fresh Market's gourmet beef burgers and a variety of sausages
Food sampling throughout the store, including favorites from Stonewall Kitchen and Good Health Snacks
"Cracking of the Parmesan," featuring a 75 pound wheel of Parmigiano Reggiano, which is known worldwide as the "King of Italian Cheeses"
At The Fresh Market's new Boca Raton location, guests will discover a new look that stays true to the company's roots in offering fresh, delicious food – but re-imagines the market as a destination where guests can find an increased selection of local products, health-conscious items -- and now, new categories including everyday grocery classics.
The specialty grocer has successfully launched this new concept in three markets in its home state of North Carolina and will continue rolling out refreshed stores across the country with additional waves scheduled through 2018.
"The Fresh Market provides a unique grocery shopping experience featuring delicious fresh fare in an inviting atmosphere. Every item in our store has been carefully curated, and we stock our shelves with a combination of produce from local farmers, specialty items found from around the world and everyday grocery classics," said David Chimenti, store manager. "We know from our existing presence in Boca Raton that this community has always offered a warm welcome to The Fresh Market, and we look forward to delivering extraordinary eating experiences to even more of our neighbors here."
Beginning January 11, the new location will offer shoppers more of what they love from The Fresh Market with a concentrated focus on several key areas:
Delicious, Fresh Food – Fresh fare is top priority, with a robust selection of produce, meat, seafood and products from local farmers paired with high-quality items simply sourced from the best providers across the globe. The new location will provide a larger variety of local offerings throughout the store, including local produce items from farmers throughout Florida, such as Wish Farms and Pero Family Farms.
Meal Solutions – A dedicated sampling station will offer shoppers the chance to taste flavors from across the store, including the weekly dish from the signature Little Big Meal program. Additionally, on-the-go shoppers can conveniently pick up that week's featured ingredients at the station to easily serve a delicious meal at home. Signage will also be located throughout the store to clearly designate departments, as well as inspire shoppers to explore new tastes.
Grocery Essentials – Expanded product offerings include an increased selection of grocery and household items. Shoppers will find over 1,000 new everyday grocery essentials including baby, pet and household cleaning products to supplement the premium, gourmet and specialty items customers have come to love.
Health & Wellness – A comprehensive destination for health and wellness products, The Fresh Market now offers even more items to help customers live a healthy lifestyle with its new Mind & Body department – featuring a selection of over 2,000 vitamins, minerals and supplements, as well as an in-store specialist to answer customer questions and offer recommendations. In-store signage will guide those shopping with dietary restrictions or food allergies to a robust selection of health-conscious products across the store including several organic items, certified gluten-free items and certified non-GMO items.
The Fresh Market is also committed to the neighborhoods it calls home and has been proud to support local organizations within those communities. The new store will proudly partner with Boca Helping Hands by providing regular food donations. In addition, The Fresh Market is a national partner of No Kid Hungry® to help raise funds and awareness for the organization, which is dedicated to ending childhood hunger in America by surrounding children with healthy food where they live, learn and play.